bbakerb
So, one fic exchange assignment DOWN, one mostly down, one semi-down - I am going to allow myself to write an lj entry, I will try not to faint with the excitement
FIRSTLY: I said to my mother yesterday, 'Seriously, has no post come for me in the past WEEK?' (various things I was expecting) and she said, 'Oh, I've been putting your stuff behind the door here' which, well, we will not get into how I am not good at seeing things even if they are right in front of me (lost my bag yesterday! went all round the house saying 'Where is it, anyone seen it, I can't have left it in the library/train/street' and it was let us say in possibly the MOST obvious place it could have been)
So I had the joy - the JOY - the WONDER - of a) getting a compilation of early string band music I'd been waiting for (
string bands
! are awesome!)
AND B)
CHRISTMAS CARD!
from

fatherbananas
!
!!!!
!!!!!!!!!!!!!!!!!!!!!
you know it's gonna be good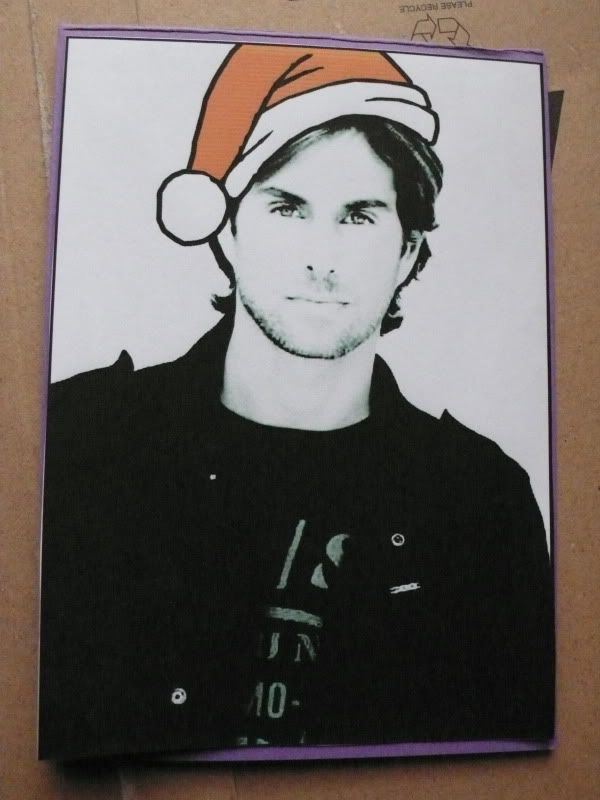 IS THAT SESTOSTERONE HIMSELF WEARING A SANTA HAT AND ATTEMPTING *BEDROOM EYES*
GOD DAM
YES
IT IS THE 'STAR' OF
THE ROOM
IN
ALL
SOME OF HIS GLORY
(going to a screening of
The Room
is one of the greatest things you can do in your life - and I genuinely don't think I would have known about this glorious cinematic achievement if it wasn't for

fatherbananas
, I am pretty sure I saw her mention it first? maybe I am wrong, I do not think so. SO ER THANK YOU FOR THAT TOO)
and it was not over! I opened the wondrous beast and BEHELD SUCH GLORY: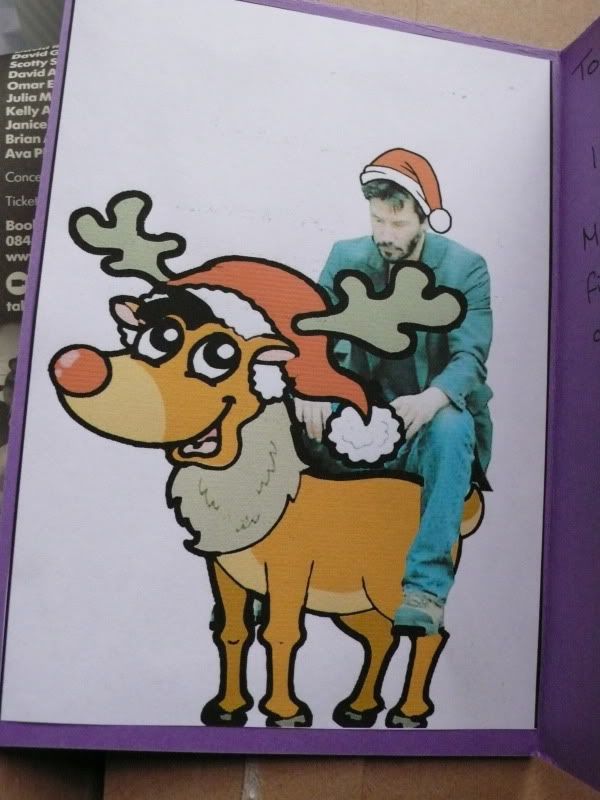 YEAH. How can he be sad? HE IS ON A REINDEER. oh the logical inconsistency!
basically
THANK YOU FOR UPPING MY HOLIDAY SPIRIT 10000000%,

fatherbananas
!
secondly: have not seen last night's misfits. HAVE NOT. am going to reward myself with watching it when assignment no. 2 is in.
thirdly: the E.W. Hornung shelf at my library has been migggghhhhtttyyy fruitful even aside from raffles things - I have discovered! things! like that he wrote a series of stories collected as
The Crime Doctor
about a doctor who is
shot through the head
and this makes him want to fight crime? except that what he apparently does is catch criminals to make them see the error of their ways, and then send them off healed as people. He thinks that prison does more harm than good, and thinks they should be abolished - an incredibly radical idea (if you take it seriously, I mean, this is supposed to be entertainment) - Jessica Mitford comes to this conclusion in
The American Prison Business,
and she's writing in
1973,
not 1910 or whenever this is. But then she doesn't give her hero a brain injury to turn him into a radical.